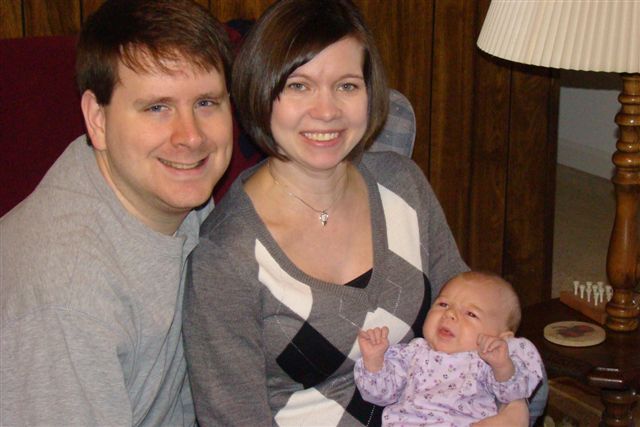 We took our first trip to Huntsville this weekend to see my family. I cannot believe how much stuff you have to pack to travel with a baby. I felt as if we took the whole nursery minus the furniture. My mom had some stuff at her house, but I wanted to make sure we were prepared just in case. We traveled there on Friday night and Katelyn did great. She slept the whole trip. Grammy and Poppy immediately claimed her when we arrived. They had not seen her in about 3 weeks. They took care of her on Friday night so we could get some sleep. It was so nice to get uninterrupted sleep for the first time in a month.
On Saturday I got my hair cut and then we went to my grandparents so they could see their great granddaughter for the first time. It was so wonderful to see grandmommy and granddaddy's faces light up when they saw her. Grandmommy was in her element taking care of Katelyn. I was so glad that they finally had a chance to be with her. My aunts and uncles also came by to see Katelyn for the first time. It was a great day.
On Sunday we took Katelyn to her first official restaurant. McAllister's doesn't really count since we got the food to go. We went to Nothing But Noodles and sat Katelyn's carrier on the table while we ate. It was very noisy in the restaurant, but it did not faze Katelyn one bit. She slept the whole time.
On the way back on Sunday we came to a standstill because of a bad wreck some ways up ahead of us. We had not even made it to 65 yet so we had a long way to go. We ended up turning around and back tracking to take the old highway back to Birmingham. We could not believe it, but Katelyn pretty much slept through it all. She is a great car sleeper, just like her mommy. : )