This past weekend we joined my parents at their timeshare in Lake Tansi. We had a great time and they really enjoyed spending time with Katelyn and us too. I know it's all about the grandchild now : ) It was like a mini vacation. It is a really beautiful area and while Mom and Dad watched Katelyn, Ricky and I explored the area. I even got to do some serious birdwatching; one of my favorite hobbies.
There was one especially funny moment where we all got tickled at Katelyn. She was totally enamored with the tablecloth at lunch one day. It was at her level and she just laughed and cooed and squealed all the while playing with it and trying to put it in her mouth. The simplest things make her laugh. We love it!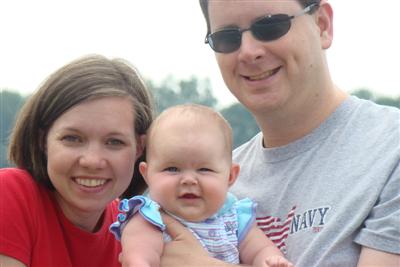 Since we did not have room for Katelyn's bathtub, we had to improvise. I think Katelyn enjoyed her sink bath. In fact she actually had two baths that day. Silly Mommy wanted to wash all the lake water and sunscreen off of her before bed.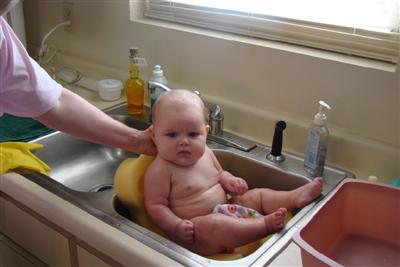 Katelyn was pretty happy as she was floating in the lake by the beach, until the waves from the passing boats got a little too rough. She did not like have the water splashed all over her and in her face. Not too happy when that happened. This picture was obviously taken before the waves came.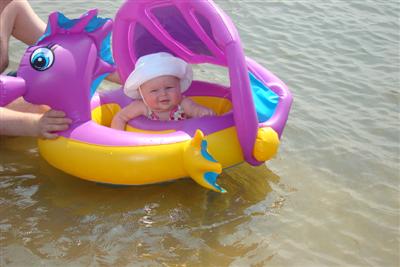 It had already been a long day when we decided to try Katelyn in the swing. She was not too enthusiastic about it. I think the swing was a bit too big for her.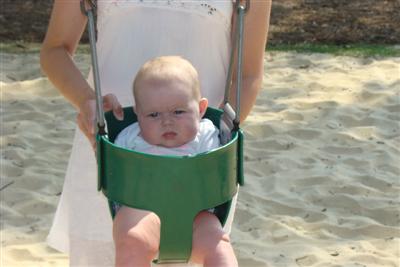 Katelyn reminds us a lot of a little bird when she is eating. As soon as she sees the spoon she opens her mouth wide, just like a baby bird does.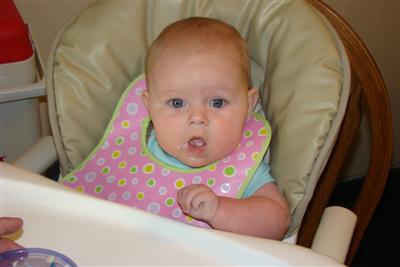 It was fun to see Mom & Dad (Grammy & Poppy) playing with Katelyn. It had been a few weeks since they had seen her and Mom was just so excited about all the new things she is doing. I love watching my parents with Katelyn, but it is especially fun to watch Dad and Katelyn. I can see all the things he must have done with me when I was a baby. It is a neat glimpse into the past. He really loved her razzing sound that she makes all the time. It is pretty funny. They thoroughly enjoyed all the time they had to spend with Katelyn.
Here they are sporting their Grammy and Poppy attire.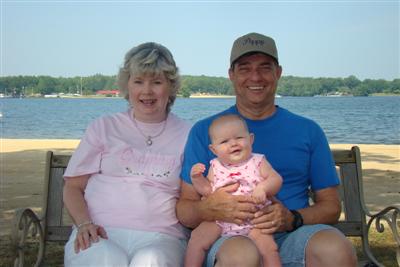 We had a great time and plan to do it again next year. Thanks Mom and Dad (Grammy and Poppy)!